Fingering
The easiest way of finding interesting points is the one-digit-approach: Lick you fingertip, and start poking at the components on the circuit board. Also try touching the copper tracks on the backside of the board.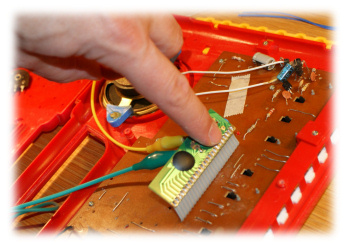 This is also one of the safest approaches to testing for bending points. While your wet finger has a fairly low resistance, it is still far less intrusive than short-ciruiting random points.
When you stumble on something interesting, make a not of it (mental, paper or otherwise). Fingering is the usual prerequisite to pitching. When the pitch of the instrument suddenly rises or gets deeper when touching a point, you have found the pitch-setting resistor.
An extra bonus: Just licking your finger, poking around, laughing manically, and suddenly shouting "heureka" when finding the pich resistor is bound to earn you some geek points (or get you committed to a mental institution).