Pitching - 1
Pitching is essential to most circuit bends. By changing the pitch of the samples in the toy, new timbral possibilites arise. Ultra-high pitches converts whole built-in songs to squeaky, granular sequcenes. The ever-present "Old MacDonald had a farm" can even become musically interesting in that way. And ultra-low pitches leads to long washes of deep growling sounds and wast snowscapes of digital noise.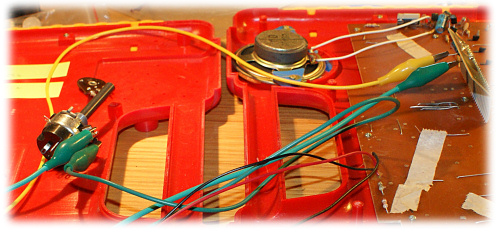 Changing the pitch of toys is in most cases a question of locating the pich-setting component. The pitch is usualley set by a resistor, but in other cases a capacitor, or a combination of both. Occationally the picth is set by a quartz crystal (this is where most will be out of luck).
Pitching is easiest in the cases where a resitor defindes the pitch. Start by locating the pitch resistor, using fingering. It is usually close to the sound chip, that most often is a black round "blob". After finding the pitch-setting resistor, try putting a potentiometer accross the resistor and repeatedly playing a sound, while you adjust the value.
For most adjustability you will need to unsolder the pitch-setting resistor and solder in a pair of clippings or leads for connection.